This is not a play for sympathy. It's an account of the business as usual that reeks havoc on my life as the female counterpart to Larry David. I'm not looking for consolation; know that up front. Your laughter is all I require. Because by now, if I've learned anything, it's that you gotta laugh at this stuff and then use it. You know, the lemonade out of the lemons thing, but with a shot of gin or vodka to help it go down easier.
I'm not usually one to place too much expectation on birthdays. Oh, who am I kidding, yes I am. I enjoy an occasion as much as the next person, especially in the dead of winter.
My birthday happened to fall on the weekend of the highly anticipated "Blizzard of 2013", which meant we entertained the assumption that we'd be hunkered down in a dark house jonesing for internet reception and pouring buckets of water into the toilet bowl. Ahh...memories...
Turns out, we were lucky to have gotten very little. With premeditated course of action, we opted for the lunch and shopping combo. Always a winner. Am I right, ladies?
The husband, having anticipated grouchy children, put the oldest in charge, as neither boy could be torn away from his respective screen.
Sure I wallowed in a bit of self pity, pining for the days of communal family time. But I also realize that birthdays are more for kids than grown ups. What kid remembers having a splendid outing in honor of their parents? No, I don't actually want an answer. It's what I'm clinging to at the moment.
Lunch. Not a romantic dinner, but date nights are hard to come by and really, any opportunity to dine with my beloved in an atmosphere where we don't have to spend an extra twenty bucks on uneaten chicken nuggets and we're able to finish our sentences? Winning.
We decide on an Italian chain restaurant that has beckoned me from the television screen with promises of thirteen dollar classic entrees of the "Grandma's meatballs" ilk.
A nearly empty dining room devoid of atmosphere did not discourage us. But what did, was the older gentleman seated at a nearby table wearing a close to transparent, sleeveless Hanes undershirt which hung so far beneath his armpits as to make his moobs visible to much of the free world. The better half and I exchanged quips regarding the likeliness of being seated adjacently. Oh how I wish I could be as "right on" when buying lottery tickets.
"Can we sit by the fireplace?"
"Uh...yeah. Let me clean a table first." promises the hostess clearly meandering her way through her shift.
The view from behind the huge stone hearth that separates diners from any discernible view of the actual fire was incredibly...stoney. But we were "by" the fireplace, dammit.
That's when smarmy waiter showed up. Now, when you picture the staff of this establishment, simply view them as the cast of any John Waters movie. Mr. Waters himself is taking our drink order while continually tugging at his greasy remaining strands of hair and showing off his pocket protector. Oh yes. He pitches the house red. The restaurant wine tasting is, for me, a formality. I've never passed on an offering. Except this was like swigging vinegar. I'm not proud of my third grade facial expression, but let's just say I'd stopped pretending.
The food? It took a very long time to arrive. By that I mean I pictured myself in Betty White's Naturalizers, grateful to have ordered something I could gum.
Afterwards, we did the shopping. I was by now, completely looped from the decanter of "Not House" red I downed by myself when my dearest declined from imbibing. "Have they really renovated the mall in the six months since we'd last been here or am I hallucinating? Where is everything and did I just walk into the men's room? Why can't I find my way out of this maze of new construction? Why am I walking in the opposite direction? Who cares? Where's the nearest bench? I need to lie down."
I used my Christmas gift card to pay for the birthday items. Here's a tip: always, always use those gift cards before your birthday comes around.
As we headed toward the grocery store to fetch a cake, my six year old texted me with the message "Where the hell are you?" We'd been gone for two hours. And what the hell was that? I thought I'd taught him better.
The search for my own cake was iced with good intentions and I settled on something involving chocolate. Yes there was a Larry David checkout scene wherein the customer ahead of us used a credit card to purchase gum and yes a credit check was required. Yes I heard an endless loop of Nancy Sinatra's "Is That All There Is" in my head and yes, the boys had to be summoned repeatedly to the birthday cake before it burst into flames, serving as a perfect metaphor to the day.
But you know...I'll be damned if chocolate doesn't make you forget all that. Even if you're the female Larry David edging dangerously toward fifty.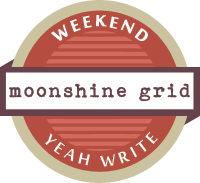 The Yeah Write Moonshine Grid is a weekend
grid for bloggers who write and writers who blog.
To read more, or to link up yourself, click on the button.